Conducting company research is a critical step along your job search journey.  With a plethora of information available online, it can be an overwhelming task.  Here are my tips to help ensure that you don't miss any key information while sifting through the volumes of information available to you.
Company Research
There are a variety of resources available so you can gather key pieces of information on your target company.
Company Website – Most organizations have a dedicated company website and it is a great place to start with your research. Here are a few pages you should review:

About Us – in this section, many companies will provide information about their history, Mission, Vison, and Values. Similarly, this information may also be found on a company's careers section.
News – this page is typically dedicated for recent (and archived) news articles with highlight key company milestones and accomplishments.  Companies tend to showcase those news articles that they themselves deem particularly important.
Investor Relations – if the company is publicly traded, they will likely have an Investor Relations page where you will be able to find information on company financials as well as their annual and quarterly reports. It is a good idea to browse through these reports, not only to gather any key financial insight, but also to glean information on key company investments and developments.
Our Team – In this section, you will likely find information about the leaders within an organization, such as the CEO, executive team, and possibly the board of directors. It is usually a good idea to know who the CEO of an organization is before going into an interview.

Social Media – you can gain many key insights on an organization based on their social media presence. Here are a few places you should turn to for this part of your research:

Twitter – take note of the types of tweets a company sends out as well as the tweets from its key people, such as the CEO or executive team.
Facebook – another resource to see what information the organization is sharing with its fans.
LinkedIn – be sure to follow the company on LinkedIn to receive updates on various postings they feel is important enough to share on this platform.

Network – while researching LinkedIn, be sure to look up any key people within the organization as well as the people with whom you will be interviewing. See if you have any connections in common and be sure to reach out to those people for any insights they may be able to share with you.  In addition, you can search your LinkedIn connections to see if there is anyone you know who is a current or former employee of your target company.
Review Sites – Sites such as GlassDoor.com provides candidate and employee reviews of a variety of companies. In addition, forums on job boards and Salary.com may also have similar employee or interviewee reviews.  Take this information with a grain of salt as sometimes there are far more negative reviews than positive reviews.  That said, it is a good idea to take note of any potential "red flags."
Google – especially Google News. Set alerts to ensure you are receiving up to date information on the organization.
Job Interview – your research doesn't stop the minute you go to an interview, in fact, the job interview is a perfect opportunity to conduct research on the corporate culture. Take note of how you are greeted upon arrival as well as how the employees interact with each other.  Is the overall atmosphere cordial, formal, friendly, or a combination of these?  Finally, is this the type of organization in which you can see yourself?
Other Research
Competitors – by quickly reviewing competitor's websites, take note of how they position themselves in the competitive landscape, taking note of any key competitor developments and investments.
Industry Research – researching an industry can take a lot of time, but it could be worth it. This is especially true if you are targeting several organizations within a particular industry.  Here are a few resources for conducting industry research:

Association sites – a quick web search for the industry in question will likely return a number of industry association websites. These are great resources for information on industry trends and overall competitive landscape.
Government sites – most government websites will have industry statistic data and data on various industries based on NOC (National Occupation Code) data.
Mergent Online database – most post-secondary institutions will provide access to the Mergent Online database via the university or college library. In other cases, your local library may provide access to this database as well.  The Mergent Online database has a wealth of information on various organizations and industries.
MarketResearch.com – This is another great website with a volume of industry, company and country information.
Pulling it all Together
Now that you have all of this information, it is important to organize it in a way that you can analyze the target company, maintaining a balanced view.  One of my favorite tools to do this is a SWOT analysis.  SWOT is an acronym that stands for Strengths, Weaknesses, Opportunities and Threats.  The figure below illustrates how a SWOT Analysis works.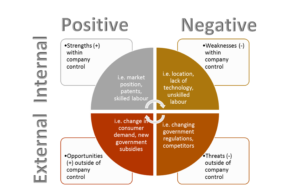 In addition, another great resource is SlideShare.com.  Not only could SlideShare.com be a great resource for company research, you might also find completed SWOT analysis on your target company, their competitors, and possibly industry analysis.  Keep in mind, these analyses may not encompass all of the research you would have conducted, but it may be a good starting point.
Final Thoughts
As much as you might want to highlight all of your hard work and research, it is important to stay positive in your interview.  As an example, if the company in question has recently sold off one of their divisions, instead of saying: "I noticed that you have sold ABC division.  What's up with that?"  You may want to say: "I noticed that you have recently sold ABC division. This is intriguing to me.  Can you tell me how you came to that decision?"  The first approach would immediately put the interviewer on the defensive, whereas the second approach is a great way to showcase your research and your interest in the organization.
Finally, be sure not to sound overly keen to demonstrate the research you would have conducted on the interviewers.  Doing so may make you come across as desperate and potentially intrusive.
The interview is your prime opportunity to showcase the best version of you.  Conducting company research and staying positive and respectful in your interview will go a long way in doing just that!
If you have any other recommended research resources, please feel free to leave them in the comments below.  If you have any questions, video ideas, or would like to collaborate, please feel free to contact me directly.
In the meantime: Happy Hunting!